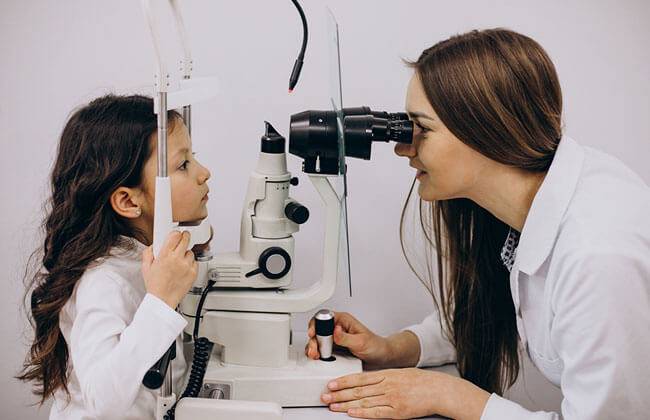 Eye Examinations
Contact Lenses
Eye Disease Management:  Dry Eye, Cataracts, Glaucoma, Diabetes, Macular Degeneration
Ocular Emergencies
Surgery Co-management
Wide Variety of Optical Frame and Lens Selections
On-Site Optical Lab
Comprehensive Examination
Every ocular examination we perform consists of two parts: the visual refractive component of the examination and the eye health evaluation. Below is a brief description of an examination at our office:
01
Visual Acuity Measurement
Testing the sharpness of vision by looking at an eye chart with or without your current eyeglasses or contact lenses.
02
Binocular vision Testing and Extraocular Movement
Various procedures used to see how well the eyes work together as a team The doctor is looking for any signs of strabismus (eye turn) or amblyopia (lazy eye) in addition to making sure there are no restrictions to the movements of the muscles that control eye movement.
03
Personalized Contact Lens Fittings
We offer a wide range of contact lens options for nearsightedness, farsightedness and astigmatism. We personalize your fitting to be sure you get the best vision possible. Did you know there are bifocal contact lenses?
04
Refraction
During a refraction, the doctor puts what is called a phoropter in front of your eyes and shows you a series of lens choices and will ask you which of two choices is clearer. Based on your responses, the doctor will fine-tune your prescription until he/she comes up with a prescription for eyeglasses.
05
Slit-lamp Examination
A slit-lamp (also known as a biomicroscope) is an instrument the doctor uses to examine the health of the eyes. He/she will first examine the structures of the front surface of the eye then with the help of a high-powered lens the back surface of the eye will be evaluated. A wide range of ocular health problems can be diagnosed with the slit lamp examination such as corneal ulcers, cataracts, glaucoma, macular degeneration and dry eye syndrome to name a few.
06
Glaucoma Testing
The doctor will perform applanation tonometry to access the intraocular pressure in your eye. For this procedure the doctor will instill 1 eyedrop into each eye (this is NOT dilation). In some patients a slight burning sensation may be felt with the drop. The doctor will then assess your intraocular pressure by moving a probe towards the front surface of the eye. This is a painless procedure. At most, you may feel the instrument tickle your eyelashes. The entire test takes just a few seconds.
07
Dilation
The doctor will evaluate your eyes without dilation initially. If the view to the back of the eye is difficult because of cataracts, small pupils, or any other reasons, the doctor may wish to dilate your eyes. What this means is a few drops will be instilled inside of the eye which will cause mydriasis of the pupil or in other words the pupils will open up wide to allow an excellent view of the health of the retina. The doctor may recommend this test if you are diabetic or have high blood pressure or if you are seeing flashes of light or floaters in your vision. Your doctor will discuss this with you before proceeding.
08
LASIK/PRK Consultations
The doctors at Granbury Eye Care evaluate and consult patients about their candidacy when it comes to refractive surgeries such as Laser-Assisted In-Situ Keratomileusis (LASIK) and Photorefractive Keratectomy (PRK). All of the pre-operative examination as well as the necessary post-op follow-up evaluations are done in our clinic. We work closely with several surgeons in the Dallas/Fort Worth area that have excellent reputations and fantastic results.
09
Cataract Evaluations
Cataracts are a naturally aging process of the eye. Dr. Wadley and Dr. Zimmerman will do a thorough evaluation of your overall eye health and make recommendations as needed for cataract surgery. After the initial evaluation, if surgery is recommended the next step would be a consultation with the cataract surgeon. In this step of the process, a final decision will be made as to what implant type will be used to in your surgical procedure.
New advances in technology have allowed for len implants that correct for astigmatism, as well multifocal implants such as the Restore and Crystalens which help to improve your range of clear vision without as much dependency on glasses after surgery. There are many factors that are taken into account when implants types are discussed. Not everyone is a candidate for a multifocal lens.
After surgery, the post-op evaluation is done at our office. We typically see patients 1-day, 1-week, and 1 month after the surgery. We will help answer any questions you have along the way.
10
Diabetic Evaluations
Every diabetic patient should have a yearly dilated ocular examination. Early changes in the body from diabetes can manifest in the eye first due to the small caliber of blood vessel size in the eye. Early detection of diabetic retinopathy or macular edema can help prevent vision loss frequently associated with diabetes.
11
Glaucoma Evaluations
Glaucoma is sometimes called the "Silent Thief of Vision" because there are no symptoms of glaucoma until very late in the disease state. Glaucoma is a sight-threatening disease that slowly causes loss of the peripheral vision over time. If any signs of glaucoma are present, the doctors may recommend additional testing such as a visual field examination or scanning laser instrumentation that helps detect early nerve fiber layer loss secondary to glaucoma.
12
Ocular Emergencies
The doctors at Granbury Eye Care are highly trained in ocular emergencies from various corneal injuries such as metallic foreign bodies, corneal ulcers and abrasions, to ocular infections, irritations, or dry eye. We also diagnose retinal problems that can manifest as flashes of light or floaters in your vision. We prefer a courtesy call if an emergency visit is needed; however we do accept walk-ins for emergencies when required.
Service Areas
Granbury, TX
Glen Rose, TX
Acton, TX
Bluff Dale, TX
Cresson, TX
De Cordova, TX
Lipan, TX
Nemo, TX
Paluxy, TX
Pecan Plantation, TX
Rainbow, TX
Tolar, TX
Godley, TX
Burleson, TX
Cleburne, TX
Contact Details
Address:

1101 Water's Edge Drive, Ste. 104 Granbury, TX 76048

Phone:

817-579-7933

Business Hours

Mon - Thurs : 9:00 AM – 5:30 PM
Friday : 9:00 AM – 5:00 PM
Sat - Sunday : Closed