Our Comprehensive Eye Care Services
At Granbury Eye Care, we are proud to offer a wide range of comprehensive eye care services to meet the unique needs of our patients in Granbury, TX. With a team of highly skilled optometrists and a commitment to excellence, we strive to deliver top-notch care and improve your vision and eye health. Explore our services below:
Comprehensive Examination
Regular eye examinations are essential for maintaining optimal eye health and detecting any potential issues early on. Our comprehensive eye examinations involve a thorough evaluation of your vision and overall eye health. Our experienced optometrists use advanced diagnostic tools and techniques to assess visual acuity, screen for eye conditions, and evaluate the health of your eyes. Through these examinations, we can identify any abnormalities or concerns and recommend appropriate treatment or corrective measures.
We understand the importance of clear and comfortable vision in your daily life. That's why we offer a range of vision correction options tailored to your unique needs. Whether you require prescription eyeglasses or contact lenses, our skilled professionals will guide you in finding the best solution for your vision correction.
-A-
Eyeglasses
Our on-site optical boutique features a wide selection of high-quality eyeglasses, including designer frames and lenses. Our knowledgeable staff will assist you in choosing the perfect eyeglasses that not only improve your vision but also reflect your personal style and preferences. With precise lens fitting and customization, we ensure that your eyeglasses provide optimal visual clarity and comfort.
-B-
Contact Lenses
For those who prefer contact lenses, we offer a variety of options to suit different needs and lifestyles. Our experienced optometrists perform thorough contact lens fittings to ensure the proper fit, optimal vision correction, and maximum comfort. Whether you need soft disposable lenses, rigid gas-permeable lenses, or specialty lenses for conditions like astigmatism or presbyopia, we will find the right contact lenses for you.
-C-
Orthokeratology (Ortho-K)
Orthokeratology, or Ortho-K, is a non-surgical treatment that corrects vision while you sleep. By wearing specially designed gas-permeable contact lenses overnight, Ortho-K gently reshapes the cornea, temporarily reducing or eliminating the need for glasses or daytime contact lenses. Our skilled practitioners will guide you through the Ortho-K process, ensuring safe and effective results.
-D-
Refractive Surgery Consultations
If you're considering a more permanent vision correction solution, we provide refractive surgery consultations. Our optometrists work closely with trusted ophthalmologists to assess your eligibility for procedures like LASIK, PRK, or lens implantation. We will guide you through the evaluation process, helping you make an informed decision about the most suitable surgical option for your needs.
Specialized Eye Care Services
In addition to comprehensive eye examinations and vision correction, we offer specialized services to address specific eye conditions and concerns. Our expertise extends to: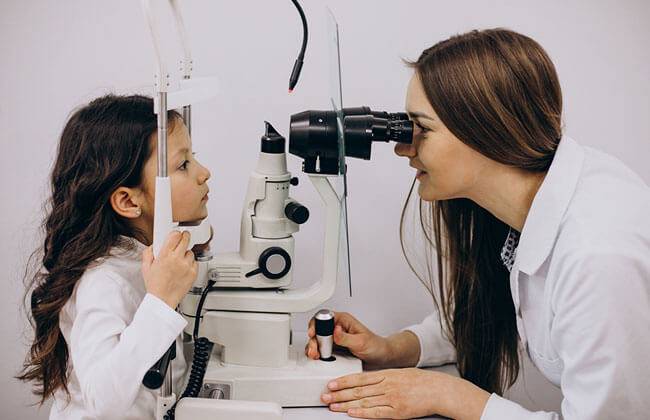 -A-
Pediatric Eye Care
We understand the unique eye care needs of children and the importance of early detection and management of eye conditions. Our specialized pediatric eye care services include comprehensive eye exams, vision screenings, and the diagnosis and treatment of common pediatric eye conditions. We create a friendly and comfortable environment for our young patients, ensuring their eye health needs are met with the utmost care and expertise.
-B-
Treatment of Eye Diseases and Conditions
Our experienced optometrists are well-versed in the diagnosis and treatment of various eye diseases and conditions. From glaucoma and macular degeneration to diabetic retinopathy and dry eye syndrome, we offer advanced diagnostic techniques and personalized treatment plans to preserve your vision and improve your eye health.
-C-
Dry Eye Management
If you experience the discomfort of dry eye syndrome, we provide comprehensive evaluations and tailored management strategies. Our experts will identify the underlying causes of your dry eye and recommend appropriate treatments, which may include lifestyle modifications, prescription eye drops, or innovative therapies such as intense pulsed light (IPL) therapy or LipiFlow
Conclusion
At Granbury Eye Care, we are dedicated to providing comprehensive eye care services of the highest quality. From thorough eye examinations and vision correction options to specialized services and treatment of eye diseases, we prioritize your eye health and well-being. Schedule an appointment with us today to experience exceptional care and take the first step towards optimal vision and eye health.
Service Areas
Granbury, TX
Glen Rose, TX
Acton, TX
Bluff Dale, TX
Cresson, TX
De Cordova, TX
Lipan, TX
Nemo, TX
Paluxy, TX
Pecan Plantation, TX
Rainbow, TX
Tolar, TX
Godley, TX
Burleson, TX
Cleburne, TX
Contact Details
Address:

1101 Water's Edge Drive, Ste. 104 Granbury, TX 76048

Phone:

817-579-7933

Business Hours

Mon - Thurs : 9:00 AM – 5:30 PM
Friday : 9:00 AM – 5:00 PM
Sat - Sunday : Closed