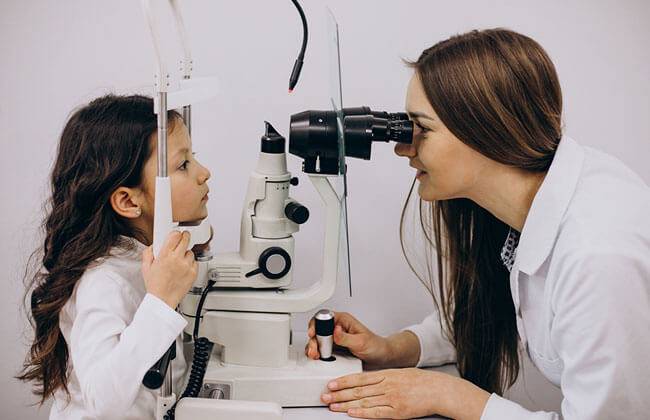 Comprehensive Eye Care Your Entire Family Can Trust!
We would like to welcome you to Granbury Eyecare. Our top priority each and every day is providing you with the best care possible. We utilize the latest in technology to provide comprehensive eye health evaluations for all ages. We provide a warm comfortable setting to make you feel at home. We look forward to seeing you soon!
Refraction
During a refraction, the doctor puts what is called a phoropter in front of your eyes and shows you a series of lens choices and will ask you which of two choices is clearer. Based on your responses, the doctor will fine-tune your prescription until he/she comes up with a prescription for eyeglasses.
Slit-lamp Examination
A slit-lamp (also known as a biomicroscope) is an instrument the doctor uses to examine the health of the eyes. He/she will first examine the structures of the front surface of the eye then with the help of a high-powered lens the back surface of the eye will be evaluated.
Glaucoma Testing
The doctor will perform applanation tonometry to access the intraocular pressure in your eye. For this procedure the doctor will instill 1 eyedrop into each eye (this is NOT dilation). In some patients a slight burning sensation may be felt with the drop.
Diabetic Evaluations
Every diabetic patient should have a yearly dilated ocular examination. Early changes in the body from diabetes can manifest in the eye first due to the small caliber of blood vessel size in the eye. Early detection of diabetic retinopathy or macular edema can help prevent vision loss frequently associated with diabetes.
Glaucoma Evaluations
Glaucoma is sometimes called the "Silent Thief of Vision" because there are no symptoms of glaucoma until very late in the disease state. Glaucoma is a sight-threatening disease that slowly causes loss of the peripheral vision over time. If any signs of glaucoma are present, the doctors may recommend additional testing.
Ocular Emergencies
The doctors at Granbury Eye Care are highly trained in ocular emergencies from various corneal injuries such as metallic foreign bodies, corneal ulcers and abrasions, to ocular infections, irritations, or dry eye. We also diagnose retinal problems that can manifest as flashes of light or floaters in your vision.
They are always polite and efficient. The optical department is cheerful and ALWAYS go above and beyond the call of duty. Never had a problem, even when they are crowded.
- Rob Gump
Dr. Wadley is the best eye care professional I have worked with. The other doctor at this location prescribed two prescriptions prior to my appointment with Dr. Wadley and both of his prescriptions were wrong.
- Bill Young
I am so glad I went to Granbury Eye Care! After being disappointed with the service at Cheney Eye, I was very happy about the care and service I received at Granbury Eye Care.
- Angela Mears Bragg
Best. Eye. Place. Ever!!!! Seriously have NEVER seen people care so much about their customers and their eyes. I won't go anywhere else from here on out.
- Alicia Herrera
I've been going here for as long as I've lived here and our family loves Dr. Wadley. We would definitely recommend.
- Randy Hurtado
This practice went above and beyond today, a holiday to help out an out of town visitor. We will be patients for life!!
- Jacqueline G
Service Areas
Granbury, TX
Glen Rose, TX
Acton, TX
Bluff Dale, TX
Cresson, TX
De Cordova, TX
Lipan, TX
Nemo, TX
Paluxy, TX
Pecan Plantation, TX
Rainbow, TX
Tolar, TX
Godley, TX
Burleson, TX
Cleburne, TX
Contact Details
Address:

1101 Water's Edge Drive, Ste. 104 Granbury, TX 76048

Phone:

817-579-7933

Business Hours

Mon - Thurs : 9:00 AM – 5:30 PM
Friday : 9:00 AM – 5:00 PM
Sat - Sunday : Closed